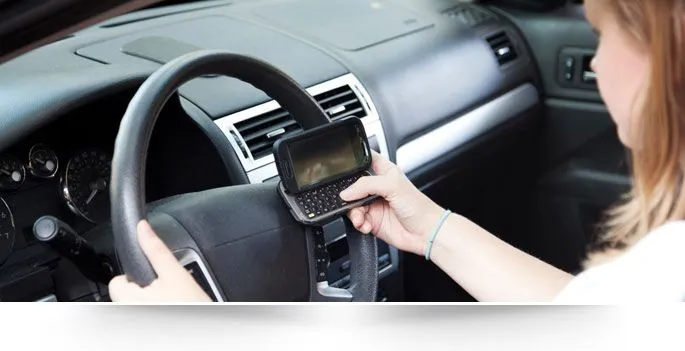 Accidents Caused by Distracted or Reckless Drivers

Representing victims of reckless and distracted driving accidents in Baton Rouge
In June 2011, more than 196 billion text messages were sent or received in the United States, up nearly 50 percent from the year before. Unfortunately, as cell phone use increases, so does the dangerous activity of texting while driving. Because text messaging diverts the visual, manual and cognitive attention of the driver from the road, it creates the greatest risk of accident-causing distracted driving. The highly experienced Baton Rouge attorneys at Marks and Lear PLC provide comprehensive support and guidance to victims who are injured, as well as surviving family members of victims who are killed, because of accidents caused by reckless or distracted drivers.
Accidents caused by distracted driving
In 2010, more than 3,000 people were killed in crashes involving a distracted driver and an estimated additional 416,000 were injured. Statistics show that distracted driving is a leading cause of accidents. Specifically:
In 2010, 18 percent of injury crashes involved distracted drivers
Eleven percent of all drivers under age 20 who were involved in a fatal car accident were distracted at the time of the crash
Forty percent of all American teens say they have been in a car when the driver used a cell phone in a dangerous manner
Drivers who use hand-held devices are four times more likely to get into serious injury crashes
Text messaging creates a crash risk 23 times worse than driving while not distracted
Sending or receiving a text takes a driver's eyes from the road for nearly five seconds, the equivalent of driving the length of a football field blind at 55 mph
Causes of distracted driver accidents
Distracted driving is any type of activity that takes a driver's attention away from the road. Distractions often cause reckless driving such as speeding, swerving, running red lights or stop signs and failure to slow or stop for stopped traffic. All types of distracted and careless driving endanger the lives of drivers, passengers and bystanders:
Using a cell phone while driving
Texting while driving
Eating and drinking
Using the radio, CDs or MP3 players
Reading maps or navigation systems
Talking to passengers
Grooming
Watching videos
Serious representation for serious injuries
At Marks and Lear PLC, our experience, skill and professional knowledge enable our attorneys to help clients recover compensation from insurance companies and in litigation for a broad range of serious, disabling or fatal injuries caused by distracted driver accidents, such as:
Amputation and disfigurement
Severe fractures
When experience matters, contact our Baton Rouge law office
With more than 50 years of experience between our partners and a history of excellence, demonstrated by our AV® Preeminent™ and BV® Distinguished™ Peer Review ratings and our countless satisfied clients, Marks and Lear PLC is a Baton Rouge law firm you can rely on when dealing with difficult insurers or to have your day in court. To learn more about our services, contact us online or call us at 225.250.1980.